Different Ways of Decorating Your Bedroom
We all are engaged in a lot of work ¾ of the day and almost 5-6 days of the week. One thing we all want when it is time to get off from work is to reach home as soon as possible and lay on our beds. So, a bedroom has a lot of importance in our daily lives, because we start and end our day in it. Simply, the bedroom is the most important room in our homes. We almost spend a third of our lives asleep. It is very important to focus on each and every aspect of it carefully.
If it does not seem good or properly maintained we won't have the whole heart to rest and spend time in it. As much as it is important to keep our bedroom clean, it is important to decorate and give it a pleasurable look. Then only we would be able to feel good, recover our bodies and rest our minds after a tiring day at work. So now we will look into different ways in which we could decorate our bedrooms.
Organized wardrobes and drawers
We should be able to pre-plan the things we are going to place in the bedroom with the proper idea about the area of the room. Because too much mess in the bedroom can lead us to feel stressed and sleep deprivation as well.
By having a proper and spacious clothing system with the use of well-organized wardrobes and drawers, you can create a clean space which will lead to having a clean mind as well. It will also make sure you do not want a chair full of clothes in a corner of your room leading to a spacious and decorated bedroom.
Use of colours
The use of colours is one of the best ways of decorating your bedroom. Bedrooms are meant to be relaxing and comfortable areas where someone could come and rest forgetting all the problems running through their minds. So, the use of beautiful colours in the bedroom will add more comfort to your mind.
You could use neutral colours like white, cream, or light blue if you prefer it simple and also go for some bold colours according to your interests. You can select duvet covers, pillows, and bedspreads of bold colours. You can use boho wall art on the wall or the ceiling by adding more colour and elegance to your bedroom as well.
Right furniture
In the process of decorating your bedroom, choosing the right furniture is a very important aspect to be considered. You won't be buying furniture daily, so make sure you buy furniture of great quality and comfort.
You should be mindful enough to match the colours in the bedroom and make the combination look perfect. And also make sure you have a proper idea about the available space in the bedroom because you should have enough space to walk around the room comfortably.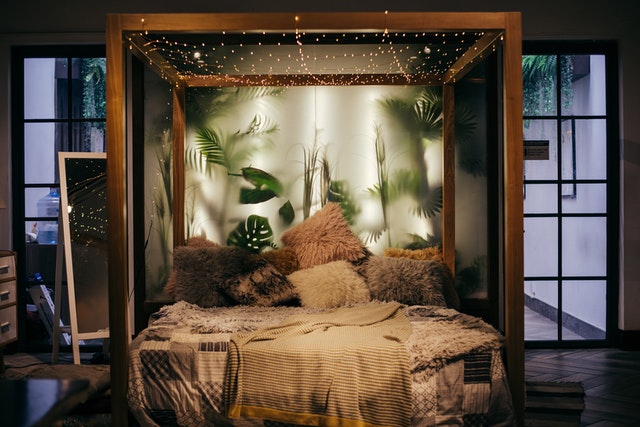 Personal style
When going through bedroom ideas, you do not want to stick to something which does not feel good for you. You could come up with your own ideas according to the interests of you and your partner. So, your bedroom will be unique and most importantly feel comfortable.
So, these are some of the different ways of decorating your bedroom. Stick to these and make your bedroom look unique without sticking to the typical routine which will make it seem boring.