Make Your Outdoor Space More Guest-Friendly
Now that the weather is cooler, we all want to stay outside and enjoy the cool breeze. If your family and friends often visit your place, make your outdoor space more guests friendly by following the below tips.
Choose a spot that your guests would want to spend the most time in
For colder season, we would still prefer to stay outside but we need to be warm and toasty. So, for your guests to enjoy their time, arrange the spot near the fire pit. Add some chairs, tables or even tents for impromptu camping under the star while roasting some marshmallows for smores.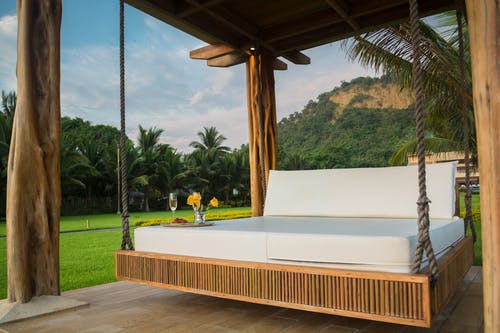 For summer season which is also a good weather to stay outside, arrange the spot near the swimming pool or the gazebo. Make sure that your guests would not feel too hot while partying outside. The swimming pool is of course, a perfect choice to cool down. Or you could have retractable outdoor blinds installed in your gazebo or porch to provide shade and relief from the sun's rays.
Invest on appropriate furniture
When you buy furniture for your outdoor space, invest on the appropriate one. Consider durability since the furniture would be constantly exposed to the elements. Furniture made out of metals are durable although you have to consider if it is stainless steel since the probability of it getting wet is very likely.
If the furniture is not water resistant, the material might rust and deteriorate. Furniture made out of plastic might warp if it is constantly exposed to strong sun. Colours might also fade. Another thing you must consider is if the furniture is weighty because if it is light, the wind might just blow it away which could cause damage to properties and injuries.
Add lighting
When we stay outside, sometimes we need to go back in when the night falls in because it is darker and we could not continue with our activities. But when we add lighting, not only would it become brighter, it could also make the ambiance cosy and set the mood. Your outdoor space could become a romantic spot if some string lights and candles are added. But adding strobe lights and spotlights could turn it into a party space instead.
Add flowers and greenery
When your outdoor space is filled with flowers and other plants, you would not need to decorate it when you have an event or activity since the plants and flowers are already decorative. You just need to add some lights to enhance the beauty of your plants.
It is also a bonus activity or hobby for you. Taking care of the flowers and plants could be a stress reliever for you and you would be motivated to care for them since they serve another purpose of beautifying your outdoor space.
Your outdoor space is an extension of yourself. Decorate it according to your personality and you and your guests would surely enjoy spending time on it. Add entertaining pieces such as board games, books, and other items that your guests would love.